Home Retrofitting For Aging in Place
Click here to see what's on this page.
Most seniors want to stay in their own homes. If aging in place is your objective, retrofitting your home to optimize this goal makes a lot of sense. What are the areas that seniors retrofit to make aging in place easier? How much do they cost? We address these in this Section.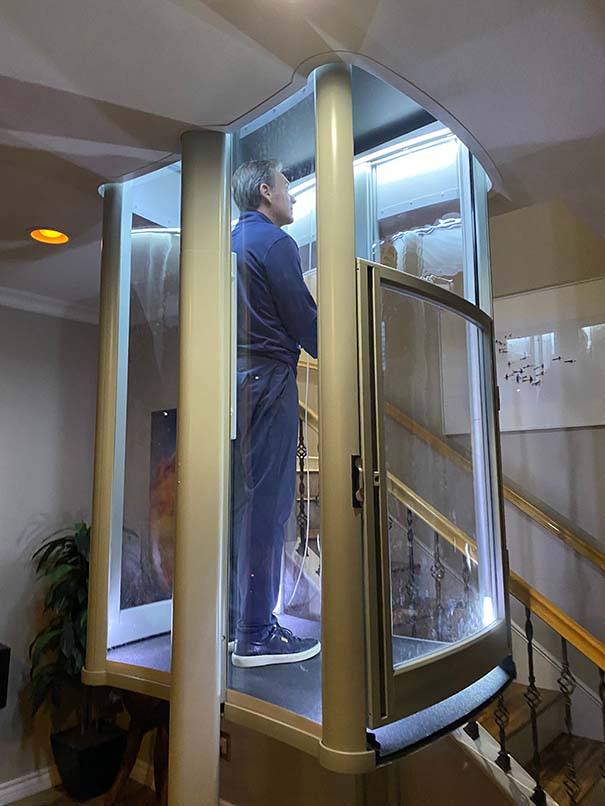 Common Home Retrofits To Age In Place
Aging in place is the term uses expressing seniors' desire to stay in their homes. In other words, seniors want to age in place. They don't want to move to assisted living.
However, many seniors' homes are not set up to make it easy to age in place. Two-story homes create obstacles (i.e., stairs). Many homes have narrow hallways that are hard for wheelchairs to traverse. Other homes have stairs in the garage or at the front door that are hard for seniors to climb. Carmen and I list the most common and effective retrofits below.
Bathroom On 1st Floor Home Retrofit
As we age, we get weaker and fall more frequently. If we need to go upstairs for baths or showers, we create an obstacle between us and activity of daily living (ADL). Obstacles cause falls, and seniors fall a lot.
Bathroom Retrofitting
Bedroom On 1st Floor Home Retrofit
The older we get, the more we fall. If we need to go upstairs to sleep we create an obstacle between us and an ADL. If we're afraid to use stairs, living upstairs can keep us from reaching kitchens and leaving the house.
Bedroom Retrofitting
Eliminate Steps
Steps between rooms can shut down a disabled senior from moving between rooms. If an elder uses a wheelchair or needs a walker, steps are extremely dangerous and impassable at best. Serious home retrofits address these challenges.
One in four seniors fall every year, and most of these are related to small rises, like those found between rooms.
Between Room Step Retrofitting
Many homes are built on different levels. Moving from room to room may involve stepts. A classic retrofit is replacing these steps with ramps.
Entry Way Retrofitting
Carmen and I have heard many horror stories of seniors falling, tripping or slipping on and around entryways. These accidents are especially scary because they usually involve a senior leaving their home for an event or coming home. Effective retrofitting usually involves:
Accessible Kitchens Home Retrofit
Seniors eat. They have more free time than others, and often this extra time is spent in the kitchen preparing meals. Kitchens can be crowded spaces. They might have fixed or rolling islands or tables. These become obstacles for seniors, especially those in wheelchairs or using walkers. Base and wall cabinets can create accessibility issues. Base cabinets are where most of the day-to-day kitchen utensils and appliances are stored. Making them easy to access for elders helps them use the kitchen. Wall cabinets are even harder to access for seniors. But they can be retrofitted for easier access.
Common Kitchen Retrofits
Bathroom Hone Retrofit
Bathrooms are critical for many reasons. As we age, we use them more. Small or poorly designed bathrooms can be hazardous to seniors. After stairs, the most common place seniors fall is in bathrooms. Every good home retrofit considers bathrooms. Here's a quick way to assess what you can do. First, assess your needs. Based on these, you can select the best retrofit options.
Figure Out Your Needs
To be safe, if the senior wants to stay in their home forever, all the above is likely to be addressed.
Common Bathroom Retrofits Include
Door Handle Home Retrofit
As we age we lose strength and coordination. It gets harder to grip and twist our wrist. There are many options for doorknobs that aid seniors. These include:
Extra-wide Doorways & Hallways
If you were to purchase a new home designed for seniors, it would offer wider hallways and doorways. Wider widths accommodate wheelchairs. Narrow hallways and doors can be impassable for wheelchairs. This limits how a senior can navigate their own home. Expanding the widths of doorways and hallways is a great home retrofit.
In many cases, hallways and doors can be enlarged to allow for wheelchair access.
Raised Toilets
Seniors and the elderly face challenges younger people don't. Bending down and getting back up on very low toilet seats is like doing squats. Fit seniors can do lots of squats. But as we reach advanced old age or deal with chronic illnesses our ability to do squats declines. Getting up and down can cause:
Common Toilet Retrofits Include
Elevators & Stairlifts For Home Retrofits
Stairs are like a ninja course obstacle for seniors. Even for healthy seniors, steps cause accidents. One in four seniors fall every year. Most fall on stairs. If you need a wheelchair or walker, you can't climb steps. There are two solutions for getting upstairs without walking: stair lifts and elevators.
Stairlifts are a chair attached to a motorized rail. The rail enables the chair to climb up and down a staircase attached to the rail. These rails can be fitted to any staircase. Staircases to upper floors, basement or garage.
Elevators come in lots of varieties and include:
Hydraulic Cable Elevator (aka Traction Elevators)
Most cable elevators are powered by a motor that turns a cable-wrapped drum. As the drum turns, the cable pulls the elevator up or down. Cable elevators require a lift shaft, pit or machine room to house the motor and drum. The construction complexity makes this type more cost-effective when they're part of new home construction.
Non-Hydraulic Cable Elevator
Cable elevators without shafts are well suited for residential elevators that do not require supporting walls or hydraulics. They're powered similarly to a crane by a self-contained, roped drum braked gear motor drive system. These are durable and can be placed out of sight, on top of the elevator. These home elevators are freestanding. They travel on self-supporting rails with no extra weight placed on the walls or floor. Installation can take just one day.
Chain Elevators
Chain lifts work via a counterweight attached to a chain that travels in the opposite direction of the elevator car. This requires a larger shaft than other lift types, and doesn't require a separate motor room like a cable driven elevator. The chain goes over a toothed flywheel that sits at the top of the elevator and then down to the counterweight. A geared motor at the top of the shaft provides power by turning the flywheel.
Hydraulic Elevators
Hydraulic elevators work with hydraulic fluid. This fluid is pumped into the cylinder of the hydraulic arm via a valve. The pressure pushes up a piston along with the elevator. Traditional hydraulic elevator designs require the need for a lot of space and a separate machine room.
Pneumatic Elevators (aka Vacuum Elevators)
Pneumatic elevators have relatively small footprints. They can be installed in most open space concept homes. They use a vacuum system inside a tube to power the lift. There is no need for a pit or machine room. The elevator is self-supporting. Air pressure pushes the elevator up and down using pumps and turbines.
Costs of Elevators
Hydraulic Cable Elevators
start at $15,000, and go up to $35,000
Chain Elevators
start at $20,000, and go up to $50,000
Hydraulic Elevators
Start at $20,000, and go up to $50,000
Pneumatic Elevators
Start at $35,000, and go up to $50,000
Other Resources For Home Retrofitting
Some home retrofitting advice from FreddieMac here.
List of home retrofitting modifications for seniors here.
Review our Section on Activities of Daily Living here.